KENNETH HERSKOWITZ, M.D.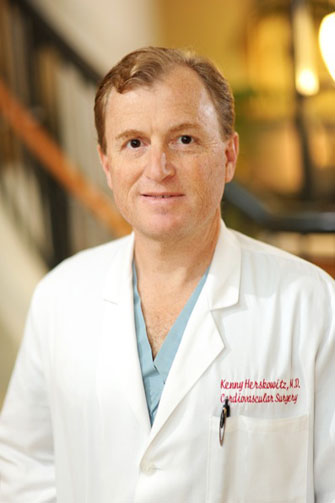 Dr. Kenny Herskowitz is a board certified cardiovascular and thoracic surgeon practicing medicine since 1986. Currently, he is the Chief of Cardiovascular and Thoracic Surgery at Broward Health Medical Center.
Recently Dr. Herskowitz has spearheaded the opening of the new Broward Health Heart Valve Center, a multidisciplinary approach to the treatment of structural and valvular heart disease. This Valve Center, along with the opening of the new state of the art Hybrid Operationg Suite, will allow cardiovascular surgeons and interventional cardiologists to work together to perform procedures in a large operation room specifically designed for advanced procedures.
The Hybrid Operating Suite will allow us to perform newer procedures such as transcatheter aortic valve replacement (TAVR/TAVI), Minimally invasive valve surgery, balloon valvuloplasty, asd/pfo closure, and complex endovascular stenting for abdominal and thoracic aortic aneurysms. Benefits of the Hybrid Suite may include fewer surgeries, shortened hospital stays, faster recovery times and better outcomes.
He has hospital privileges at Broward General Medical Center and Holy Cross Hospital. Prior to entering private practice in 1997, Dr. Herskowitz was assistant professor of surgery at the University of Miami Jackson Memorial Hospital and the Chief of Cardiothoracic Surgery at the Veteran's Administration Hospital.
Dr. Herskowitz has performed more than 7,000 cardiovascular surgical procedures and is a leading expert in the field of minimally invasive aortic and mitral valve surgery, as well as beating heart surgery. He is the principal investigator on numerous research projects and has lectured and published extensively on heart and lung surgery.
His other areas of expertise include endovascular stent grafting for abdominal and thoracic aortic aneurysms, peripheral vascular surgery, and arrhythmia surgery.
He completed a bachelor's degree in biology suma cum laude at Tulane University in New Orleans, La. and doctorate degree in medicine and surgical training at Baylor College of Medicine in Houston, Texas. He is currently a member of The Florida Society of Thoracic and Cardiovascular Surgery, a member of the Society of Thoracic Surgery, and the American College of Surgeons.
He has consistently had one of the lowest morbidities and mortalities in the state of Florida as well as in the United States. He was recently honored as the American Heart Associations 2007 honoree for outstanding contributions to Cardiac Surgery in South Florida. He has been recognized as a Gold Coast Magazine Top Doctor from 2008 through 2012. In 2010, Broward General was recognized as a Highest performing Cardiac Aurgery Hospital.