The MitraClip® Procedure for Mitral Regurgitation
Mitral Regurgitation impacts millions of adults in the United States and if left untreated, can be life-threatening. Mitral regurgitation occurs when the mitral valve leaflets do not close completely and blood flows backward or "leaks," creating symptoms that may include shortness of breath, fatigue and chest pain. The cause can be Degenerative or Functional.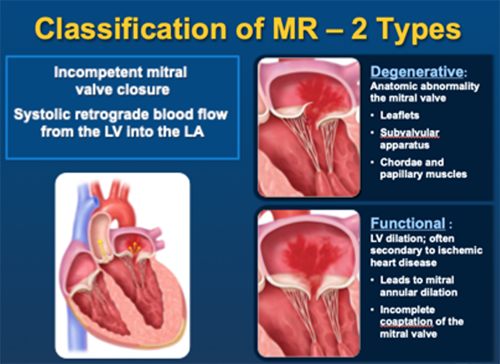 How is MitraClip performed?
MitraClip is performed through a vessel in the groin using a catheter. Please watch the short video below for more information.
Severe, mitral regurgitation is often treated with open-heart valve surgery. However, for high-risk patients, open-heart surgery may not be the best treatment option. For these patients, MitraClip is the only approved minimally invasive, non-surgical treatment option.
During a MitraClip procedure, the MitraClip device is inserted in to the body through a catheter placed in the patient's femoral (leg) vein. The catheter is then threaded up the vein to the heart. Once in the heart, a small hole is made in an internal wall of the heart (the atrial septum) and the MitraClip device is advanced across the mitral valve.
The device is positioned and placed to join or "clip" together a portion of the mitral valve leaflets, reducing or eliminating the backward flow of blood. Patients typically go home the next day.
Who is a candidate for MitraClip?
The best candidates for the FDA-approved usage of the MitraClip are either patients who have Degenerative or Functional Mitral Regurgitation.
Degenerative Mitral Regurgitation
Have a structural problem with the mitral valve with moderate to severe mitral regurgitation
Are experiencing symptoms
Have been deemed too high risk for surgery
Functional Mitral Regurgitation
Have normal mitral valves who develop heart failure symptoms and moderate-to-severe or severe mitral regurgitation because of diminished left heart function (commonly known as secondary or functional mitral regurgitation) despite being treated with optimal medical therapy
Optimal medical therapy includes combinations of different heart failure medications along with, in certain patients, cardiac resynchronization therapy and implantation of cardioverter defibrillators
Who to contact
If you are a referring physician or patient and would like to more information about the TAVR procedure or the structural heart program at Broward Health Medical Center, please contact us at:
Broward Heart Valve Center
1625 SE 3rd Ave | Suite 300
Fort Lauderdale, FL 33316
Phone: 954-761-2328
Fax: 954-355-4881